Are you a Christian writer or blogger? If you are then you've no doubt got an idea, a story, a concept. You need to write it down so that people can read it.
Umm, right…that's the hard part, I know. Writing it down.
If writing was easy then everyone would do it. Actually, writing IS easy and more people DO do it then you may realize. The problem, however, is that most people don't FINISH their writing. They have half-finished works of art sitting in an electronic folder on their desktop computer in their home office.
Yes, I'm talking about you!
You're a Christian writer. You need to finish what you've started. Don't stop. Keeping writing. Your readers are waiting. We're all waiting. Just finish already!
The only way to get your art out of your head and onto the blank white page is to start writing. Pick up a pen, start typing, whatever.
Just start writing and then don't stop. It sounds easy, yes? Well, it is.
Here are 10 steps you can begin with that will help you to begin, continue with, and finish when it comes to your Christian Writing career.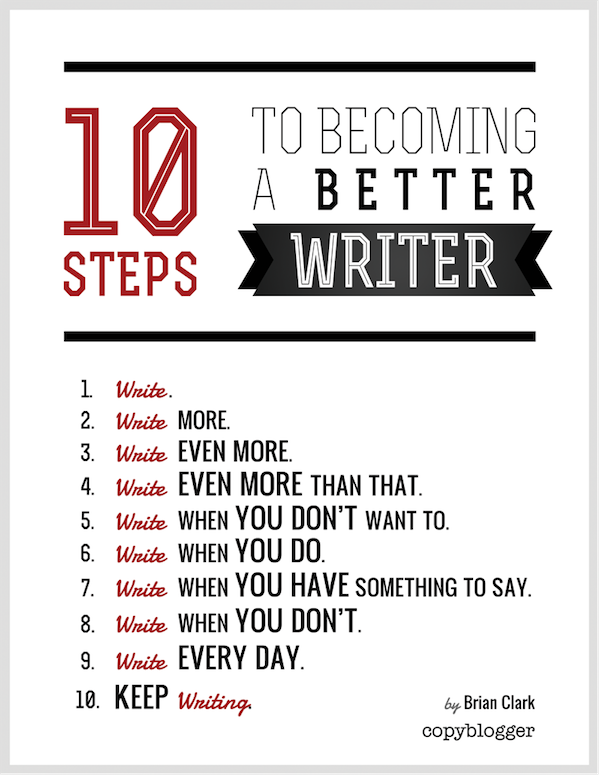 This graphic was created by Brian Clark, the founder of Copyblogger and CEO of Copyblogger Media. Get more from Brian on Twitter and Google+.
Question: What things in life hinder and stop you from writing? And how can we reverse that trend in order to keep writing and finish the job?
* Image credit: Sandara Lee (Creation Swap)